Internetið hefur aldrei verið skemmtilegra en akkurat í dag fyrir okkur stuðningsmenn Liverpool. Gærkvöldið er svo risa risa risastórt fyrir félagið og okkur stuðningsmenn að maður á aðeins í basli með að ná utan um þetta. Fjórtán ára bið á enda þar sem Liverpool hefur endað í öðru sæti, jafnvel oftar en einu sinni í öllum þeim keppnum sem félagið hefur tekið þátt í og skipta einhverju máli. Liverpool fór svo gott sem á hausinn í byrjun þessa áratugar og endar hann með svona stæl.
Það er Gullkast í kvöld en til að reyna ná aðeins utan um stemminguna hendum við brot af því sem komið hefur á safélagsmiðla í dag.
Byrja á mynd frá því þegar Jurgen Klopp tók við Liverpool árið 2015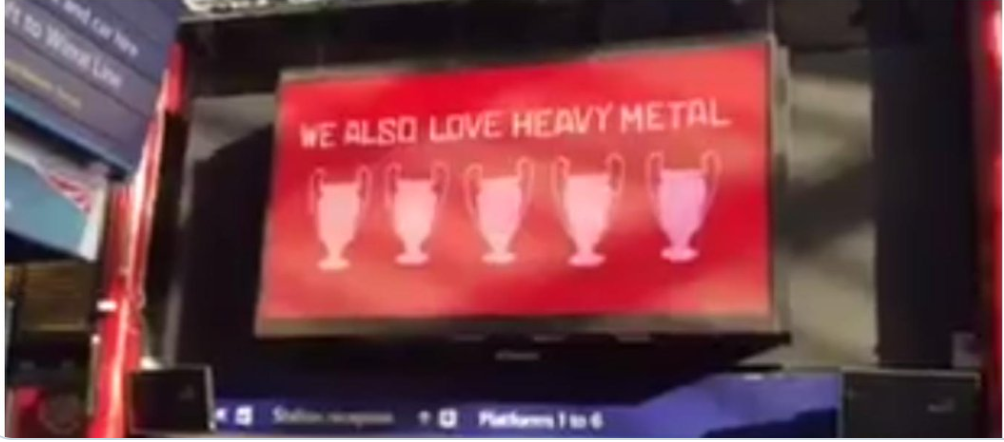 Þetta er Heavy Metal fótboltinn sem við vildum sjá.
Jurgen Klopp: "If I sit here in four years, I am pretty confident we will have one title." #LFC

— Ben Smith (@BSmith) October 9, 2015
Stemmingin í Madríd fyrir leik var í ruglinu
Just had THE BEST HOUR OF MY LIFE DJing in the Liverpool fan park.

I'm on the floor after that. ??@LFC #YNWA pic.twitter.com/LmXHZGILpJ

— colin murray (@ColinMurray) June 1, 2019
Viðbrögð okkar allra þegar Origi skoraði, guð minn góður.
Madness in Liverpool after that Origi goal pic.twitter.com/ZJxzRoCoCZ

— José ???? (@CasemiroIsGod) June 1, 2019
Horfið vel á fyrstu fimm sekúndurnar af þessu
Liverpool fans going absolutely buck wild in DTwo for that goal. Couple of casualties but all happy campers. ?Nice wee cameo from @JARiiseOfficial at the end. ???? @PepsiMAX ??#ForTheLoveOfIt pic.twitter.com/ZcG5wF4Di3

— JOE.ie (@JOEdotie) June 1, 2019
Ég ítreka https://t.co/DCqjQpLLkl

— Óskar Eiríksson (@oskarei) June 1, 2019
It´s all about six, baby!
? LET'S TALK ABOUT SIX, BABY! ?

??@JanAageFjortoft pic.twitter.com/5vRBbnHID9

— Viasport Fotball (@ViasportFotball) June 1, 2019
Þetta ætti að vera konungsfjölskyldan í Bandaríkjunum
— John W. Henry (@John_W_Henry) June 2, 2019
From age 6 to winning the 6th. #YNWA #UCLfinal pic.twitter.com/Fw0W8MPbKY

— Trent Arnold (@trentaa98) June 2, 2019
Öfugt við Istanbul þar sem Gerrard var spurður út í framtíð sína í fyrsta viðtali eftir leik er ekki verið að orða neinn lykilmann við brottför núna, enda hvaða hálfviti myndi vilja fara frá Liverpool núna? Næsti Ballon d´or winner virkar allavega sáttur…
We did it, what a feeling!!! #WEARELIVERPOOL ?? pic.twitter.com/UKStDdEVez

— Virgil van Dijk (@VirgilvDijk) June 2, 2019
Ox on Instagram ?? pic.twitter.com/WMXlcYyRYE

— Anfield HQ (@AnfieldHQ) June 1, 2019
Milner fór til liðs sem hefur unnið þennan bikar oftar en City, United, Arsenal, Tottenham og Chelsea samanlagt.
City fans made fun of Milner for not win anything after leaving them

He's now won the trophy that City have never got, but want the most

Who is laughing now pic.twitter.com/YvP1KuUdaA

— Simba?? (@PrimeMoSalah) June 1, 2019
Earlier in the season, while my little one was fighting for his life in Alder Hey, this lad went out of his way to call every day, to see how we were and whether there was anything he could do for us to help. So, forgive me a tear of joy for him tonight. A brilliant human being pic.twitter.com/JDgwD4ggGg

— John Bradley (@jbradleymedia) June 2, 2019
Við gátum nú líklega flest sofið í okkar rúmi í nótt, en maður tengir vel við bugunina eftir leik
So many crashed out on the floor but this guy really should have his pulsed checked pic.twitter.com/lxDxW6sjA9

— Kyle (@Kyledriver_) June 2, 2019
Gibbo átti klárlega besta kvöld ævinnar í gær.
This morning, @johngibbonsblog is every Liverpool fan. pic.twitter.com/kYF1euRifj

— Tony Barrett (@TonyBarrett) June 2, 2019
Það er engin ást á milli West Ham og Tottenham
Huge congratulations to @LFC on behalf of literally everyone at West Ham United https://t.co/py9ASzqOCY

— West Ham United (@WestHamUtd) June 1, 2019
Það kemst enginn nálægt því að ná eins vel utan um mómentið og Neil Atkinsson, sá allra besti í fjölmiðlum.
This is a love song. And you know who you are. Me for @TheAnfieldWraphttps://t.co/3x8WmRfWmq

— Neil Atkinson (@Knox_Harrington) June 2, 2019
Það sem þessi hópur á skilið Ribena
???#SixTimes pic.twitter.com/fXIbI3d5Gf

— Liverpool FC (@LFC) June 2, 2019
Believe, work hard, and it'll happen. pic.twitter.com/F11eKYgZgK

— Mohamed Salah (@MoSalah) June 2, 2019
Matarboðið hjá forsætisráðherra hefur greinilega innihaldið leikinn
Finally! The European cup is coming home to Anfield! Congratulations Jürgen Klopp and the team and to every Red worldwide! #UCLFinal19 #TOTLIV #YNWA pic.twitter.com/hSMIfIohQp

— Katrín Jakobsdóttir (@katrinjak) June 1, 2019
Skellur
Eina mannveran sem komst framhjá Virgil Van Dijk tímabilið 18-19. #fotboltinet pic.twitter.com/n8Kctzg2yB

— Eiríkur Rúnarsson (@EirikurMar) June 2, 2019
Djöfull verður gaman að sjá þá hamra á skiltið aftur
When Jürgen Klopp joined Liverpool he told his players they shouldn't touch the famous 'This is Anfield' sign until they won a trophy.

Jordan Henderson: "Now we can!"
??
pic.twitter.com/w8h1bWoy5s

— Taintless Red ???????????? (@TaintlessRed) June 1, 2019
Allez fucking Allez pic.twitter.com/fJETNtdRIZ

— The Redmen TV (@TheRedmenTV) June 2, 2019
Klopp gleymdi krökkunum í smá stund en bjargaði sér 🙂
Love it when a footballer wins a major trophy and says 'this is the best night of my life' then there's a pause and you can almost feel the wife's eyes boring into them. 'Professionally! The best night of my life PROFFESIONALY' #Save #ChampionsLeageFinal2019

— Jack Whitehall (@jackwhitehall) June 1, 2019
Það hefur ekkert heyrst frá Gary Neville eftir leik.
How's that going for you mate? https://t.co/1P8VwBPVRN

— Andy Heaton (@Andrew_Heaton) June 1, 2019
Þetta er frábært
"LIVERPOOL HAVE WON THE EUROPEAN CUP.

"These are the best moments of all of our lives." ??

? Subscribe for all of our reaction as The Reds are crowed European Champions for the SIXTH time ? https://t.co/XZAK9veWt7 pic.twitter.com/le8ythbzm8

— The Anfield Wrap (@TheAnfieldWrap) June 1, 2019
Reyndu að horfa á þetta án þess að tárast
Look what it means to Jordan Henderson. #LFC #UCLFINAL #Henderson #passion pic.twitter.com/O7tgf7QCQa

— Charlie Gibson (@CharlieMooseGib) June 1, 2019
ÞETTA
Anyone who tells you Champions League isn't the biggest prize in European club football either hasn't won it or hasn't won it as much as their rivals.

— Oliver Holt (@OllieHolt22) June 1, 2019
JÁ OG ÞETTA, DJÖFULL Á HENDERSON SKILIÐ MIKLA VIRÐINGU NÚNA
Henderson took on one of the hardest jobs ever presented in Football, taking over the armband from a living legend. And he's done it fantastically. Is he as good as Gerrard? No! Does he embody everything this club stands for like Gerrard? Absolutely! ??pic.twitter.com/EkakBZichW

— Stanley House ?? (@StanleyHouseLFC) June 1, 2019
"Jordan Henderson isn't good enough to captain Liverpool." pic.twitter.com/jAh4HFgDp6

— David Lynch (@LynchStandard) June 1, 2019
OUR SKIPPER ? #SixTimes pic.twitter.com/sIXwlW89HZ

— Liverpool FC (@LFC) June 1, 2019
Meira að segja Sævar Helgi tapaði kúlinu!
Djöfull er ég til í flugeld í kvöld #YNWA

— Sævar Helgi Bragason (@saevarhb) June 1, 2019
Okkar maður fór til Liverpool og tók leikinn á Bierkeller
Current mood. pic.twitter.com/hUXB0va3mu

— Einar Örn Einarsson (@einarorn) June 1, 2019
Nú ríður á að allir standi sig í sumar, það er stór hópur sem á það svo skilið að hafa okkur óbærilega í kringum sig.
Partýið í næsta húsi er að blasta Allez allez allez (YNWA byrjaði næst), heyrði í flugeldum og sá LFC fánum flaggað. Við í Samfélaginu stöndum vel undir "ef-Liverpool-vinnur-verða-þeir-óþolandi" hæpinu.

— Hjalti Þór Hreinsson (@HjaltiHreinsson) June 1, 2019
Hver einn og einasti einkaþjálfari í Sporthúsinu (fyrir utan Grillsa) er fárveikur Liverpool gómur.

Þarf ég að hlusta á tuð á mánudaginn í vinnunni? Neeeeeeeh! Farinn!!

Maður er víst ekki fæddur í gær í þessu! pic.twitter.com/31brD4LNtZ

— Egill Einarsson (@EgillGillz) June 1, 2019
Þetta er það sem við erum að syngja um í YNWA!
You know the golden sky we keep singing about? This is it. This is the golden sky we were promised. The walk was long, through the rain and the storm, and the road was hard, but we are finally here. The good old days are not behind, but ahead of us. Love you all. Good night. #LFC pic.twitter.com/exbK5SPp5f

— Léon L. (@srijandeep) June 1, 2019
Við elskum hann öll
I love him pic.twitter.com/lRgeFGy5TS

— Rory Greenfield (@RoryGreenfield) June 1, 2019
Congratulations to @LFC and all the fans. Welcome to the club Jürgen. #UCLfinal #Liverpool #YNWA #Sixtimes

— Rafa Benitez Web (@rafabenitezweb) June 1, 2019
Takk Klopp. Ég var efins fyrir nokkrum árum. Doubters to believers. #champions #YNWA

— saevar petursson (@saevarp) June 1, 2019
Það er vægast sagt svakalegur mannfjöldi að fagna liðinu þessa stundina í Liverpool borg. Líklega töluvert fleiri en búa í borginni
Jürgen Klopp is Bladdered, I love him pic.twitter.com/S1Q2hJhY0S

— Scouser Chris (@ScouserChrisLFC) June 2, 2019
Endum þetta svo á bestu mynd gærkvöldsins
Been some great photos tonight, this is the best…#SeanCox pic.twitter.com/eBqR0Ktf2o

— Peter Moore (@PeterMooreLFC) June 1, 2019