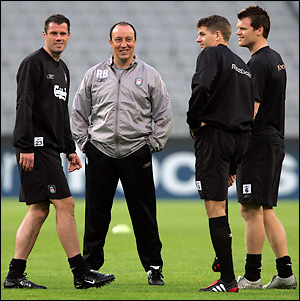 Það er alveg á hreinu að taugarnar verða þandar í kvöld og þjálfararnir báðir eru byrjaðir að tala um [líklega uppstillingu og hvað muni gerast.](http://news.bbc.co.uk/sport2/hi/football/teams/l/liverpool/6420657.stm)
Rafa segir m.a. um Barcelona:
"They need to score at least twice – we know they are an attacking side. I expect them to play with Ronaldinho, Samuel Eto'o and Lionel Messi up front and we are prepared for that.Our plan will be different from what it was in the first leg."
Þessu svarar Frank Rikjaard:
"It is great to play against a team whose manager already knows everything. Sometimes people who say they know everything are those who know the least. It is a game of two teams, both of whom have a chance of going through on the night. The style Liverpool have – quite physical and tactically disciplined – once you have seen a couple of their games you know how they play."
Það er á hreinu að bæði Benitez og Rikjaard eru búnir að gera heimavinnu sína í kvöld og leikmenn beggja liða verða 110% klárir í stríð frá fyrstu til síðustu mínútu. Það er klárlega gríðarlega mikilvægt að við fáum ekki á okkur mark snemma í leiknum en megum heldur ekki vera of varnarsinnaðir því mark hjá okkur gæti gjörsamlega gert þennan leik frábæra því þá Barcelona að spila næstum 2-4-4!
En Gerrard veit hvað er í húfi í kvöld og lætur hafa eftir sér í [The Guardian:](http://football.guardian.co.uk/championsleague200607/story/0,,2027336,00.html)
"We secured the result we wanted in the first leg but you've got to make sure you don't get carried away and think that the tie is over. This game will be a lot more difficult than the one we faced in the Nou Camp, no doubt about that, so it would be suicidal for us to go into it overconfident, thinking the job's done. In fact, it will be harder than anything else we have experienced in Europe, and harder than we faced in Istanbul."
Hvað varðar byrjunarliðið í kvöld þá eru flestir á því að Rafa stilli upp svipuðu liði og í fyrri leiknum eða svona:
Reina
Finnan – Carragher – Agger – Arbeloa
Gerrard – Sissoko – Alonso – Riise
Kuyt – Bellamy
Og þá að Bellamy vinni duglega inná kantana og Gerrard meira laus á miðjunni.
Hjá Barcelona er talað um að byrjunarliðið verði svona:
Valdes
Oleguer – Marques – Puyol – Zambrotta
Deco – Xavi – Iniesta
Messi – Eto´o – Ronaldinho
Þetta er töluvert sókndjarfara lið en Rikjaard stillti upp síðast og m.a. voru þeir Ezquerro, Belletti (meiddur), Motta og Van Bronckhorst skyldir eftir á Spáni.
Spennan er orðinn gríðarleg og maður getur varla beðið eftir KICK OFF!
ATH: Ég get ekki sett inn byrjunarliðið fyrir leikinn þar sem ég er upptekinn þangað til rétt fyrir upphaf leiksins en byrjunarliðið er hægt að nálgast inná [UEFA heimasíðunni](http://www.uefa.com) klst. fyrir upphaf allra leikjanna.