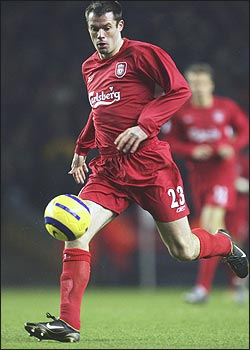 Oliver Kay, sem skrifar um Liverpool fyrir The Times, [fjallar um Carragher á Official síðunni í dag](http://www.liverpoolfc.tv/news/drilldown/NG151933060403-1246.htm). Jamie Carragher er leikmaður sem ég held að allir stuðningsmenn LFC líti upp til og kunna að meta. Ekki minnkar þessi aðdáun eftir lestur greinar Olivers. Hann er klárlega "basic" maður og ekkert að flækja hlutina, sama klippinginn síðan hann var fermingadrengur og svona svart er smart og bleikt er steikt týpa.
Það hefur ekki alltaf verið dans á rósum hjá Carra í liðinu og hefur hann skipt oftar um stöður en líklega flestir leikmenn félagsins. Byrjaði sem miðjumaður, síðan miðvörður, hægri bakvörður, vinstri bakvörður og aftur miðvörður. Hver svo sem er keyptur þá endar Carra alltaf í liðinu og það er ekki af því hann er besti knattspyrnumaður Englands heldur vinnusemi og dugnaður sem hefur ávallt einkennt hann.
Hann segir m.a.:
"It was in a period where the team wasn't doing well. "It was after the treble in 2001 and then we'd finished second and then for the next two years under Gérard Houllier, it didn't go well. At the time Arsenal were flying and Real Madrid were flying in Europe and I think our fans looked at Ashley Cole and Lauren and (Michel) Salgado and Roberto Carlos and thought, ' That's what we need, an attacking full back. We don't need Carra no more.' And I was never going to be an attacking full back."
og hann heldur áfram:
"He brought in (Sami) Hyypia and (Stéphane) Henchoz when I'd been playing centre back and that forced me to become a right back. Then he brought (Markus) Babbel in, so I moved to left back, and then he brought (John Arne) Riise in and I ended up going back to right back, and then (Steve) Finnan arrived. It was the same every season. I'd still end up playing, but I think that was just through my enthusiasm and dedication."
Í dag er Carragher einn af 4 bestu miðvörðu Englands ef ekki Evrópu og þarf ekki að hafa áhyggjur af því hvaða leikmenn koma í sumar til félagsins þar sem nafnið hans ásamt Gerrard er ávallt fyrst á leikmannalistanum.
"It's probably only about now where I feel comfortable with my position. Not comfortable in a bad way. I just mean where I'm not worried about what the manager's going to do in the summer."
Hvað varðar skemmtanir þá vitnar Carragher í Houllier þegar hann var að reyna að koma vitinu fyrir Gerrard um árið:
"It all goes back to something I think Gérard Houllier said about Stevie (Gerrard) a few years back. 'Don't go out to nightclubs. When you retire, you can buy a nightclub when you've finished.'"
…dream of a team of Carraghers…