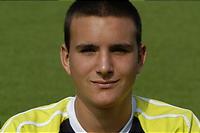 Liverpool eru [búið að næla í Jack Hobbs](http://skysports.planetfootball.com/Article.asp?id=288394), sem ku vera býsna eftirsóttur 16 ára varnarmaður, sem að barnaræninginn Arsene Wenger var líka á eftir.
Jack Hobbs er blanda af Allessandro Nesta, Paolo Maldini, skallar jafnvel og Sami Hyypia, er jafn fljótir og Djibril Cisse og jafn skotviss og Roberto Carlos. Hann mun að öllum líkindum verða besti varnarmaður í heimi. Munið bara að þið lásuð þetta fyrst hér.
En nei, annars, án gríns þá hef ég auðvitað ekki hugmynd um þennan gaur, nema að hann var eftirsóttur, svo hann hlýtur að gera eitthvað. Hobbs þessi varð yngsti leikmaðurinn til að spila leik fyrir Lincoln City þegar hann spilaði með liðinu í annarri deild (gömlu 4. deildinni) aðeins 16 ára og 149 daga gamall.
Samt ánægjulegt, sem að forseti Lincoln City, gamla liðs Hobbs, segir um Liverpool:
>"Liverpool made their interest known 10 days ago and have conducted themselves superbly.
Vonandi að það verði eitthvað úr þessum strák.
**Uppfært (EÖE)**: Liverpool [staðfesta þetta á Official heimasíðunni](http://www.liverpoolfc.tv/news/drilldown/N149216050701-0957.htm)