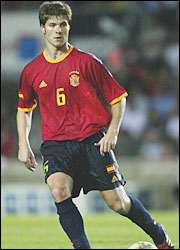 Gætum við beðið um betri fréttir?
[Alonso could make surprise return](http://news.bbc.co.uk/sport1/hi/football/teams/l/liverpool/4349097.stm)
Rafa segir:
>"If everything continues OK, I hope Xabi will be in full training by the last week of March. He will be like a new, very important player for us."
>"Maybe Xabi will be available for the second game of the quarter-final which will be on 12 or 13 April.
FRÁBÆRT!