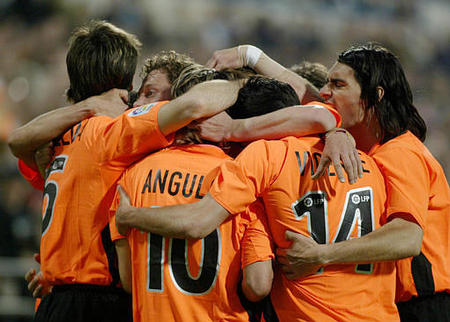 Ókei, þannig að nú er nokkuð ljóst að Liverpool munu ráða Rafael Benítez, þjálfara Valencía á Spáni, sem næsta framkvæmdarstjóra liðsins. En þar sem við Íslendingar höfum því miður ekki séð nógu marga leiki með Valencía í vetur (þökk sé Real Madríd-dýrkun þeirra á Sýn, pffft!) erum við enn nokkuð mikið í myrkrinu varðandi spilagetu liðsins.
Þannig að menn spyrja sig nú í gríð og erg: geta Valencia eitthvað?
Svar: Horfið og grátið! Þessi síða inniheldur öll mörk Valencia í öllum keppnum á nýafstöðnu tímabili! Smellið bara á tengilinn, veljið svo 'Videos' og þaðan í '2003-04 Season'. Þaðan er hægt að velja öll mörk ársins eftir leikjum og keppnum.
Sjálfur mæli ég sérstaklega með 5-1 sigrinum á Real Mallorca á útivelli þann 21. mars sl., hvar Mista skoraði þrennu. Þá er einnig gott að kíkja á 6-1 útisigurinn á Malaga, hvar Oliveira hinn ungi skoraði þrennu. Og fyrir þá sem eru að vonast til að sjá argentínska snillinginn Pablo Aimar í treyju Liverpool á næsta tímabili væri ekki úr vegi að kíkja á 1-1 jafntefli í fyrsta deildarleiknum gegn Real Valladolid, hvar téður Pablo Aimar skoraði mark Valencia.
Í stuttu máli: Valencia-liðið sl. vetur á sér fáa eða enga jafnoka í heiminum í dag. Þeir eru auðveldlega eitt af fimm bestu félagsliðum heims í dag (hin væru, að mínu mati, Arsenal, AC Milan, Porto og líklega Santos þótt ég sé ekki nógu vel að mér um Suður-Ameríska boltann). En góðir eru þeir.
Í enn styttra máli: Pablo Aimar er snillingur, boltaséní af Guðs náð!
Annars hafði ég gaman af að lesa þessa grein í The Times í kvöld, þar sem m.a. kemur fram að…
>The arrival of Benítez might not be such good news for Phil Thompson, who served as Houllier?s assistant. Parry has indicated that the new manager will be allowed to assemble his own coaching staff, with reports in Spain suggesting that Benítez would insist on bringing Francisco Ayestaran, his assistant at Valencia.
Bless Thompson. En aðrir eiga sér meiri framtíð…
>The future of Sammy Lee, a Spanish speaker, is more secure, with his duties likely to include translating for Benítez until his English, no more than passable at present, becomes fluent.
Og þótt furðulegt megi virðast þora The Times að fullyrða að…
>His move to Anfield, though, is agreed. Even while Valencia were trying to persuade Benítez to stay, Parry felt confident enough on Monday to say that ?there will be an announcement about our new manager in two weeks?, which coincides with the coach?s notice period.
Auk þess sem þeir eru vongóðir, eins og við hinir, um að…
>It is feasible that Benítez will encourage players such as Roberto Ayala, Ruben Baraja or Pablo Aimar to follow him from Valencia, but more important for Liverpool are the players who are already at Anfield.
Úff, spennandi! Hér fyrir nokkrum vikum talaði Einar um hvernig draumasumar sitt gæti litið út. Og ef við tökum smá tékk núna þá er Heskey farinn, Cissé kominn, Houllier farinn og Benítez 99% kominn. Þótt hann hafi ekki nafngreint þá sérstaklega í sínu draumasumri þá held ég að Einar myndi varla fúlsa við að fá Ayala með Hyyypiä í vörnina og Pablo Aimar fyrir framan Stevie G fyrirliða í hjarta liðsins, eða hvað???
Hélt ekki. Sumarið, hingað til, er búið að vera fantastískt fyrir okkur Liverpool-aðdáendur og er aðeins von á meiri spenningi. Hvort það verður Aimar, Van der Vaart eða Rosicky sem kemur á miðjuna, hvort það verður Ayala eða Mexés sem kemur í vörnina, þá er það ljóst að með Cissé, Benítez og tvo-þrjá nýja leikmenn til viðbótar verðum við Einar Örn sleeeeeefandi þegar nýtt tímabil hefst!
Sem er einmitt eftir 54 daga núna. 54 dagar í fyrsta æfingaleik, and counting…