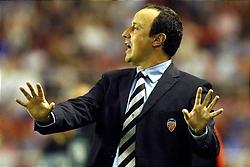 Hjá Valencia virðast menn [vera verulega fúlir](http://www.liverpool-mad.co.uk/news/loadnews.asp?cid=TMNW&id=161428) yfir því að Benitez skuli vera hættur hjá félaginu. Hluthafar krefjast þess að öll stjórnin segi af sér.
Valencia virðist hafa klúðrað málunum með því að bjóða Benitez ekki neitt fyrr en hann var búinn að vinna bæði deildina og UEFA bikarinn og eftir að hann var orðaður við Liverpool. Þá hrukku þeir við og buðu honum nýjan samning, en honum fannst það vera of lítið of seint.
Flest virðist benda í þá átt að Benitez fari til Liverpool en ég þori ekki að bóka það fyrr en ég sé hann taka í höndina á Rick Parry.
Benitez er einn eftirsóttasti þjálfarinn í Evrópu og hefur verið orðaður við nokkur lið. Þegar hann átti enn í viðræðum við Valencia [sagði hann í útvarpsviðtali](http://www.timesonline.co.uk/article/0,,428-1124682,00.html):
>?I am in no hurry to go to Inter Milan, Barcelona, Real Madrid or any other club. I want to stay at Valencia. It is already a big club.
Hann stóð ekki alveg við þetta, en það er spurning hvert hann getur farið? Í viðtalinu nefnir hann þrjú lið. Einnig hefur hann verið orðaður við Tottenham. Við getum útilokað Barcelona og Real strax, því Real er nýbúið að ráða þjálfara og Riikjard ætti að vera nokkuð traustur hjá Barcelona.
Þá eru eftir þrjú lið: Inter Milan, Tottenham og Liverpool. Það er augljóst að Liverpool er betri kosturinn af ensku liðunum. Leikmannahópurinn, peningarnir, hefðin er öll hjá Liverpool.
Þá eru það bara Inter og Liverpool. Forseti Inter tilkynnti í [síðustu viku](http://www.sportinglife.com/football/overseas/italy/news/story_get.dor?STORY_NAME=international_feed/04/05/17/SOCCER_Ita-Inter_Milan.html) að Zaccheroni yrði áfram hjá Inter, þrátt fyrir ekkert spes gengi á síðasta tímabili.
Er þá ekki Liverpool besti möguleikinn fyrir Benitez. Er það eitthvað félagslið í Evrópu, sem er að leita að þjálfara, sem er meira heillandi en Liverpool nú þegar Chelsea er búið að ráða Mourinho? Ég held ekki. Benitez segist eiga að fara yfir sína möguleika. Hann má ekki skrifa undir hjá neinum fyrr en eftir tvær vikur, en hann hlýtur að mega tilkynna hvað hann gerir fyrir þann tíma.
---
Allavegana, [Echo eru enn öruggir á því að Benitez komi](http://icliverpool.icnetwork.co.uk/0500liverpoolfc/0100news/tm_objectid=14293274%26method=full%26siteid=50061%26headline=benitez%2d%2di%2dm%2don%2dmy%2dway-name_page.html). Þar segir m.a.
>Although Parry is on holiday in Barbados, he confirmed over the weekend an announcement is likely in mid-June. Far from frantically searching for their next boss, there has been an air of calm authority around Anfield since Gerard Houllier's departure.
>Benitez will be able to join the Reds once his two weeks notice in Spain is served.
Gott mál ef þetta reynist allt satt.