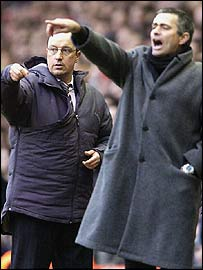 BBC Sport tóku sig til í dag og gerðu ítarlegan samanburð á þeim Rafa Benítez, okkar manni, og José Mourinho hjá Chelsea. Það er að vissu leyti mjög athyglisvert að lesa þessa grein, og sjá hvað þeir eiga margt sameiginlegt.
Stærsti munurinn á mönnunum tveimur, samkvæmt grein BBC, er í persónuleikanum. Gefum þeim hjá BBC orðið:
>RAFAEL BENITEZ:
Smiling, charming Spaniard who once described himself as a "loner with a laptop" because of the time he spent alone master-minding tactics on his computer.
>JOSE MOURINHO:
Outspoken, blunt, charismatic, ruthless. A breath of fresh air in the Premiership.
Annar er sem sagt hálfgerður sólargeisli og tölvunörd, á meðan hinn er ruddi. Og ruddinn er "sem ferskur andardráttur í Úrvalsdeildina" ???
Skrýtið. En allavega, upphitunin fyrir stórleik sunnudagsins heldur áfram og ef ég verð mikið spenntari en ég er þegar orðinn þá fer ég að sofa skjálfandi í kvöld. 🙂